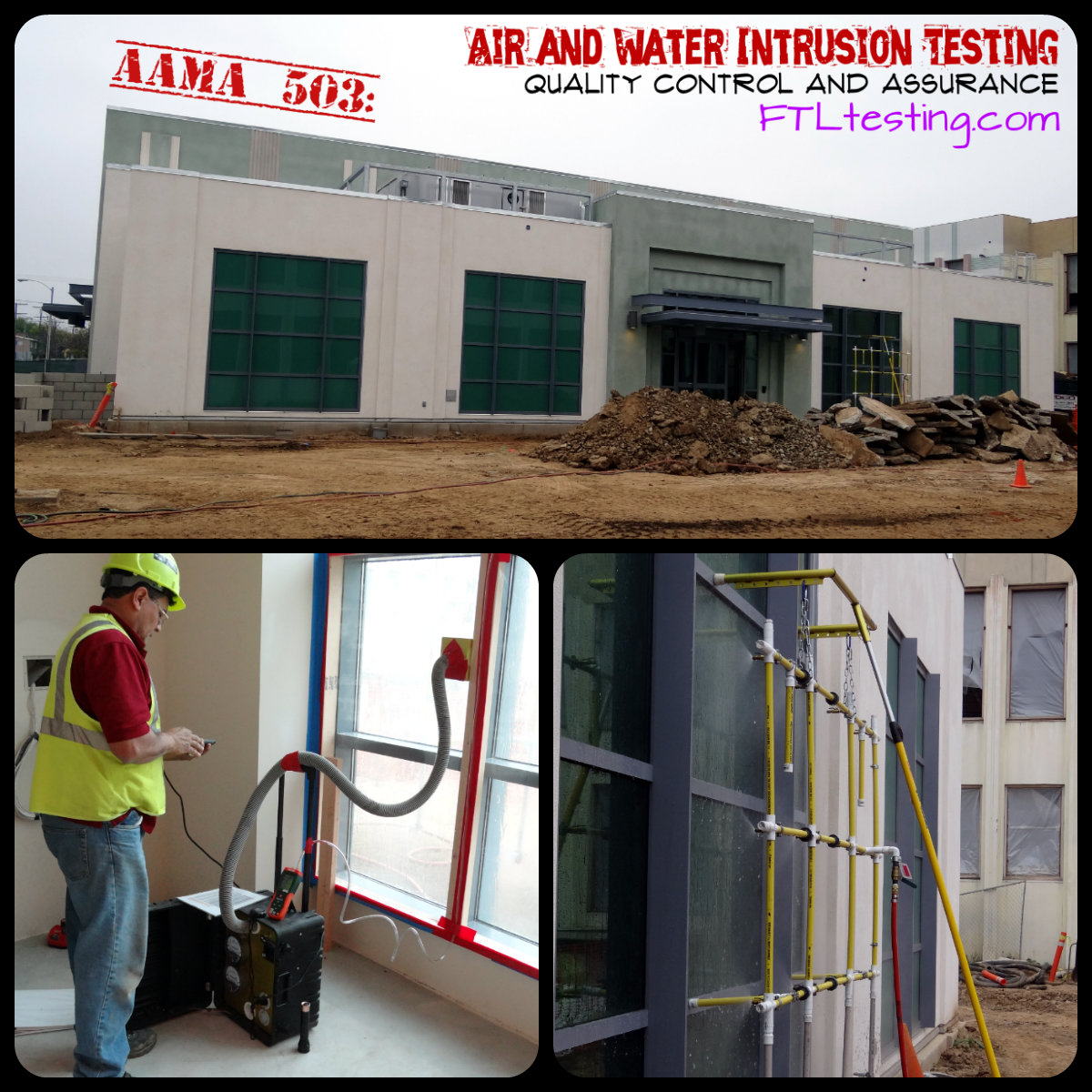 AAMA 503 - Basic Information
The AAMA 503 test is the "Voluntary Specification for Field Testing of Newly Installed Storefronts, Curtain Walls, and Sloped Glazing Systems" that was drafted and approved by the American Architectural Manufacturers Association. It has become the gold standard for all water penetration resistance testing conducted in the United States in regards to the commercial type systems mentioned above. It is primarily used for new construction quality control and assurance purposes.
It's important to note that the AAMA 503 test standard also utilizes the ASTM E-1105 test method which details specific test set-up and equipment requirements for the water penetration portion of the test, and the ASTM E-783 test method which details test set-up and equipment requirements for the Air Infiltration portion of the test.
Why is the AAMA 503 test standard Used?
The main reason that AAMA 503 is now so commonly specified in new construction projects is that it helps to act as a "quality control measure" to provide some assurances to all interested parties (i.e.-owners, architects, installers, waterproofing consultants, and builders) that the fenestration products being installed and supplied on a given project are capable of meeting "Air Infiltration" allowances for energy purposes, and also that the products can resist "Water Penetration" into the interior of the building.
When Should This Type of Testing Be Conducted?
This type of Air and Water Intrusion testing is primarily intended to be conducted in the early stages of new construction so that if any failures or potential problems were to be found during the testing, that that the installer, product manufacturer, and/or builder could implement remedial repairs that could then be retested as a quality check. Being able to catch any test failures and/or potential waterproofing issues early on during the construction process is very critical due to the fact that it can become quite costly to implement any type of a field repair once the building is nearing completion.
What are our Qualifications?
Fenestration Testing Laboratory was founded in 1988 and is an internationally accredited test laboratory for fenestration products and exterior building envelope systems. Through the years FTL has assisted clients all over the world by performing thousands of tests for quality control, quality assurance, R&D, and product certification purposes. FTL maintains test lab accreditations from the American Architectural Manufacturers Association (AAMA), the International Accreditation Service (IAS), and is also recognized as an approved ISO/IEC 17025 Third Party Test Facility by: The Window and Door Manufacturers Association's Hallmark Certification Program (WDMA), NAMI's Certification Program, and Keystone's Certification Program.
Do We Satisfy the AAMA 503 Section 3.4 Test Requirement?
Yes, we do, and to ensure that you are receiving performance test reports that meet the AAMA 503 test specification requested on your project, just ask that the testing agency you intend to hire supply you with their current AAMA test lab accreditation certificate.
Section 3.4 (Excerpt): Testing shall be performed by an AAMA accredited independent testing agency.
NOTE 5: AAMA accredited laboratories are required to comply with AAMA 204, "Guidelines for AAMA Accreditation of Independent Laboratories Performing On-Site Testing of Fenestration Products". The Requirement of AAMA accreditation assures the specifier that the laboratory has the staff, training, experience and calibrated equipment to properly perform field testing.
Do You Have Questions or Need a Quote?
If you have any questions pertaining to field testing specifications on your project, or simply need a quote, do not hesitate to call or email anytime and we would be glad to assist you the best we can.
We pride ourselves on helping you through the entire testing process and offer a variety of testing options that should fit your budget. Field testing and forensic leak investigation services are provided nationwide.
Phone: 909-477-4343